Jet5 Rota
---
Jet5 Rota is bespoke software which enables an Anaesthetic Department to effectively manage all aspects of the rota: staffing, trainee rotations, multi-site working, shifts and on-call, staff contracts, and complex jobplans. It is written in PHP, Javascript, and SQL, Jet5 Rota runs on the JAF 2.0 framework. 256bit SSL encryption secures all communication between the server and the client.
The Jet5 Application Framework (JAF)

Jet5's large, custom library of security code, responsive interface elements, database routines, and helper functions is the platform for all websites created and hosted by Jet5. The JAF contains PHP and Javascript and has been continuously updated since 1996. All code © Jet5.
Although fully functional, active development continues.
Jet5 Rota, in various guises, has helped manage the rotas in the Western Infirmary, Southern General, and Victoria Infirmary in Glasgow since 2006. The latest incarnation helped to maintain clinical activity during the challenging merger of the 3 departments into a large unified department at the Queen Elizabeth University Hospital in May-June 2015.
Click the image to go to the Jet5 Rota website.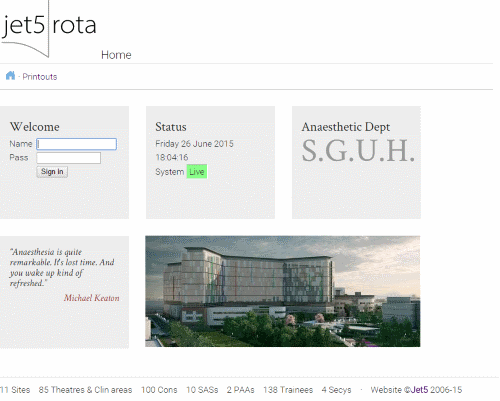 The lead programmer has had personal experience of running the rota in a large teaching hospital. Jet5 Rota is a flexible, powerful and easy to use system with some novel features.
Where possible, the workload of a large rota is delegated to the staff. For example the entering, checking, and editing of personal contact details and leave is almost entirely done by department members — overseen by the Rota Consultants and Secretaries. College tutors directly enter and edit trainee rotations, a designated senior trainee drafts the trainee rotas, and subspecialty rota consultants directly enter and maintain subspecialty rotas.
Weekly and monthly rotas automatically become visible to the staff as soon as admin work has been completed. The administration of the system is fully multi-user. Jet5 Rota reduces errors, and by putting all relevant information at the user's fingertips saves time and effort.
Access is by password (salted hash), with a flexible system of Permissions controlling access to the many screens and functions. An Audit Trail is kept, which includes all attempted system accesses and links to tools for investigating these.
To give a flavour of the software, here are a handful of screenshots — showing a small part of a large and fully-featured Rota System.
Staff Rotations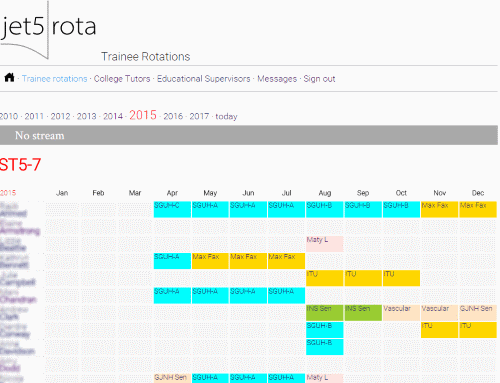 Trainee Pivot Table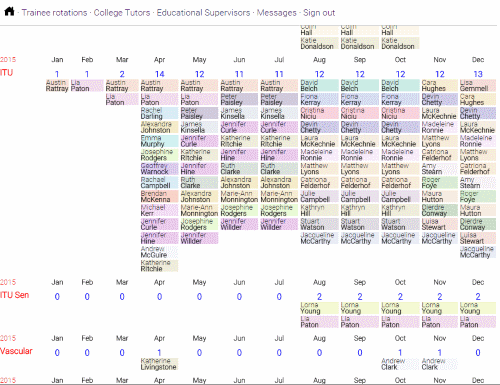 Gen Consultant On-call Rota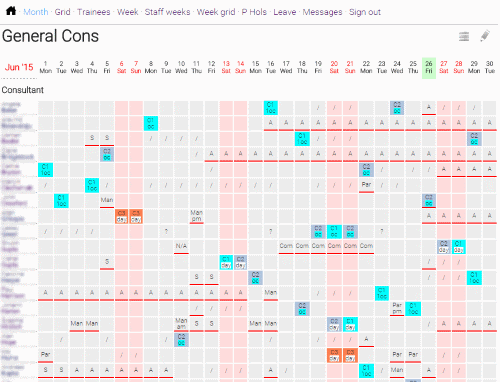 Weekly All-staff Grid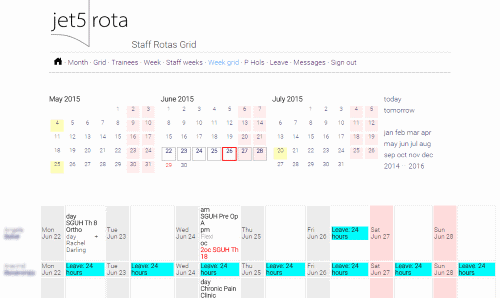 Weekly Rota - Day and On-call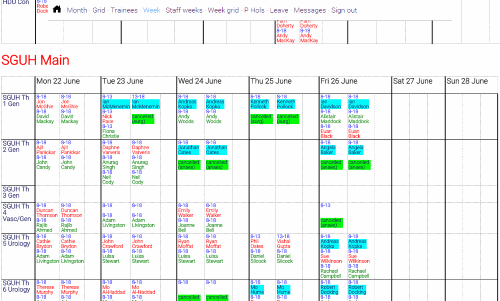 Personal Rota (2 weeks)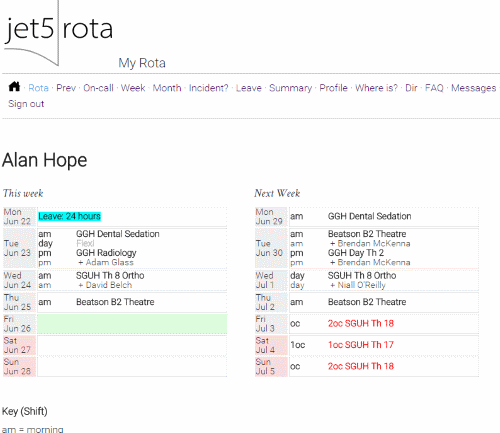 Input Personal Leave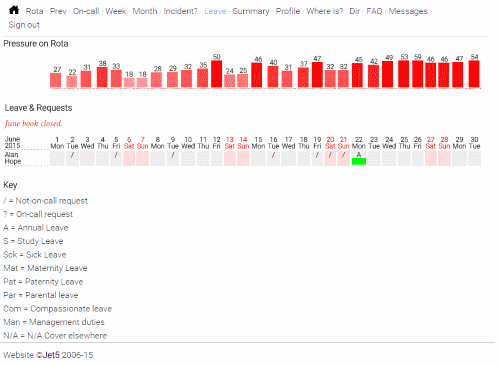 ---
Alan Hope, Aug 2015